Santa's Hot Chocolate Bar with hot chocolate recipe is just two treats he has in his bag.  Whether you leave hot chocolate and cookies for Santa or offer hot chocolate to your friends and family this hot chocolate bar will bring great smiles from everyone.
Consider setting up this bar on your dining room buffet or your entry table.  A thermos or electric kettle holds the hot chocolate for easy self service. Condiments like flavored syrups, candies, and marshmallows add to the festive bar.  Serve this hot chocolate in Santa Mugs. Festive cocktail napkins will help with any accidental drips or spills.
Serve Hot Chocolate Bar for Christmas Breakfast Buffet
Not sure what to serve with breakfast on Christmas morning? This hot chocolate bar will be a great option.  Expand your garnish options such as fresh whipped cream, ground cinnamon, and favorite candies or sprinkles to add to the hot chocolate.  Peppermint candy canes could also be your stir sticks in the Santa mug.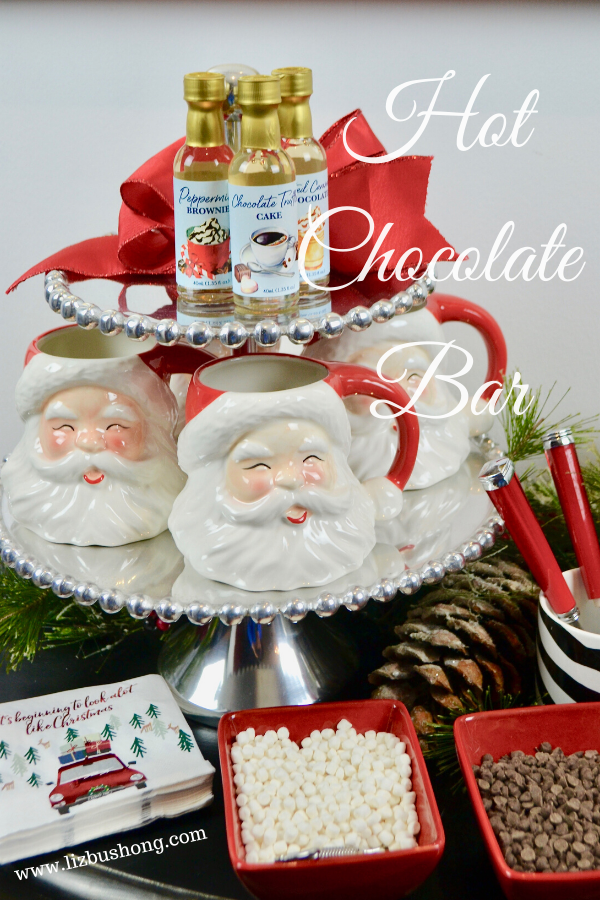 Mini marshmallows and chocolate chips are two items that are must haves for the hot chocolate bar.  Of course large or snowflake marshmallows would be great too.  Another candy idea is York Peppermint Patties on a stick.  If you have time make your own marshmallows.  This recipe is easy and you can cut the mallows in any shape you want.
Setting up the Condiments for Hot Chocolate Bar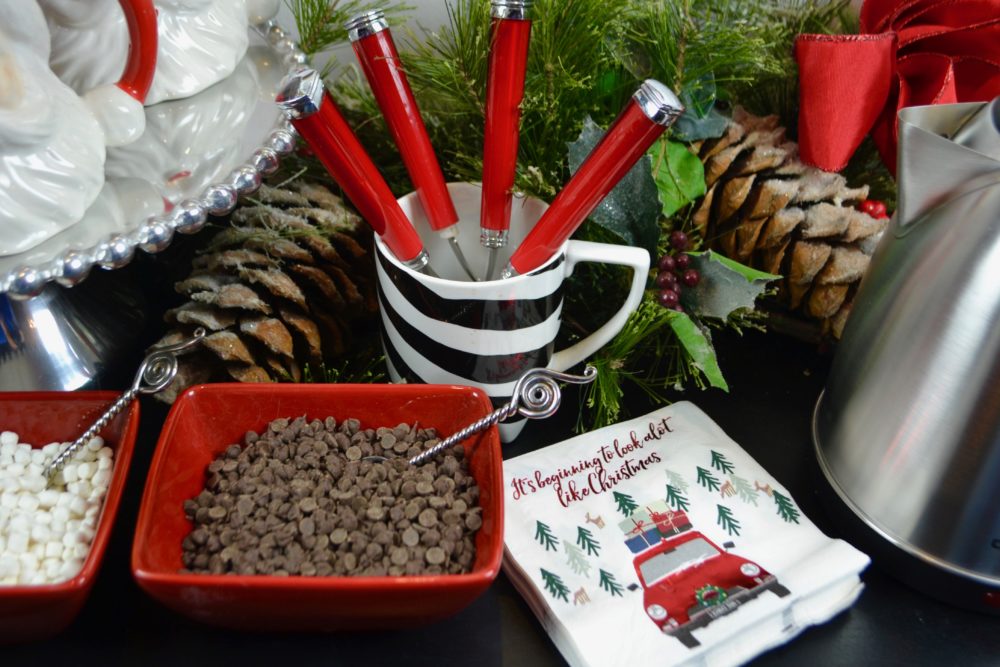 Be sure to set out a cup to hold stir sticks or spoons.  That will help everyone with stirring and little to clean up.  Having the cocktail napkin close by will also be handy.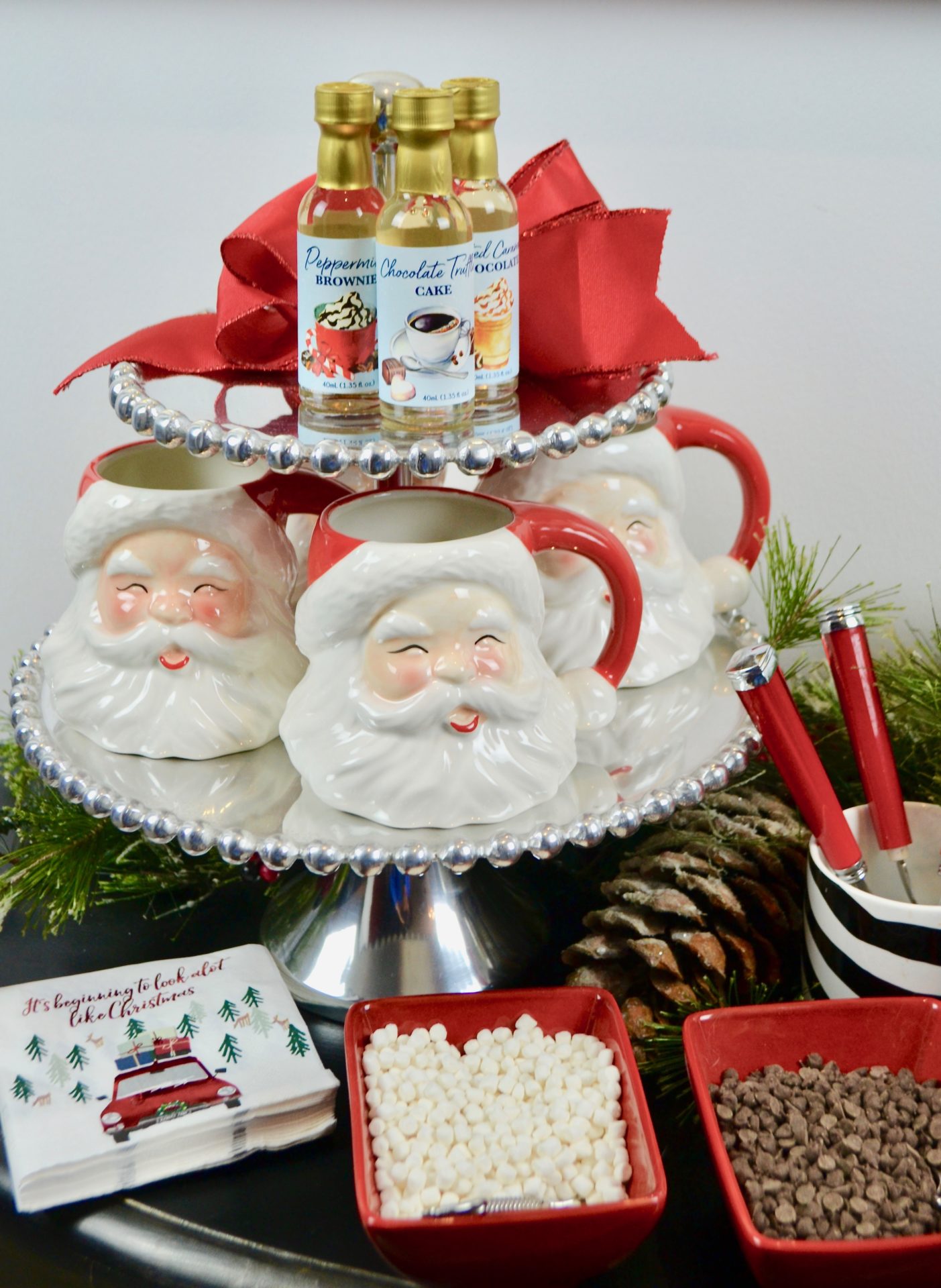 Flavored syrups are so much fun.  These are Christmas samples that came in a large gift set which some were used for gift giving.  The sizes are perfect for the top tier of the cake stand.
Santa Mugs were found at Target this year.  The truck and tree motif is very popular as well as the Santa vintage mug. Filling these mugs with Hot chocolate and whipped cream will make every one Jolly!  HO HO HO!
Now that your Hot Chocolate Bar is set up, lets look at the Christmas Brunch table setting to go along with the bar.
Christmas Brunch Table Scape with Hot Chocolate Bar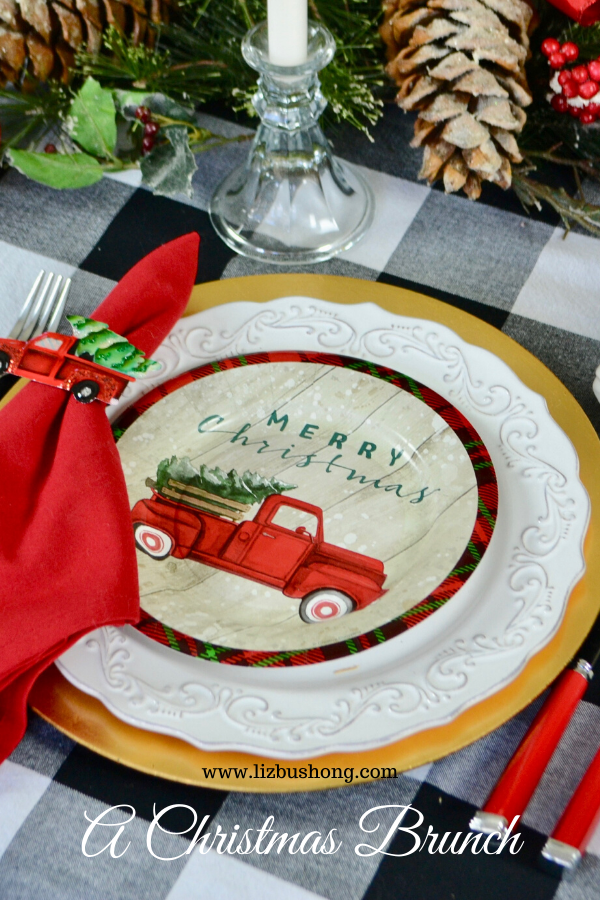 Truck and Tree paper plates will make clean up on Christmas morning  breeze as well as look pretty and festive.  Paired with the classic white dinner plate and charger helps ground the light weight plate.  Colorful silverware as in red handles coordinate with the overall setting while the red napkin sports the trunk and tree napkin ring.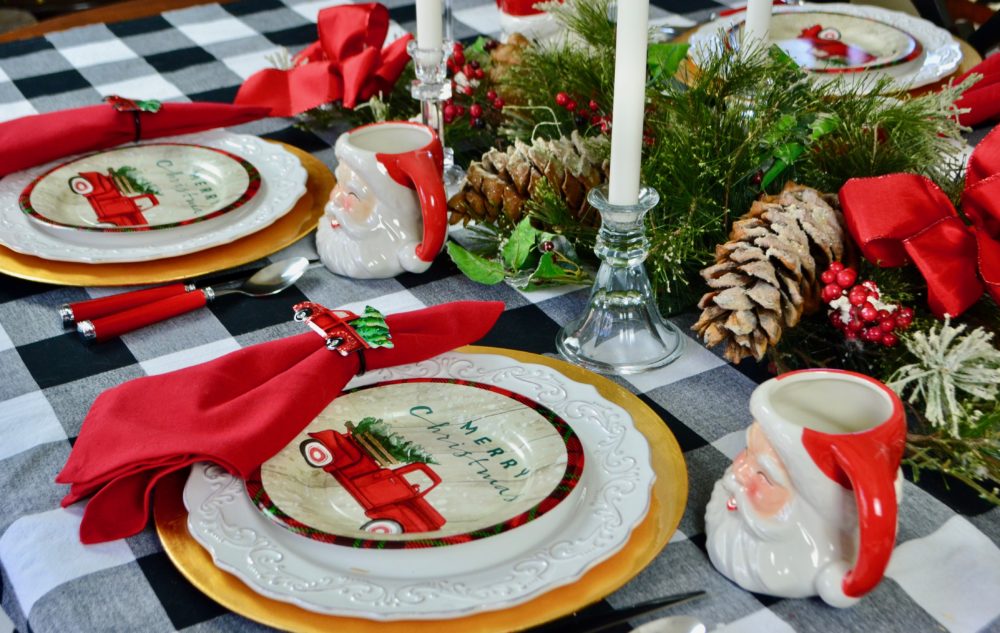 If you can't find the plates use paper or coordinating plates to match your red napkins.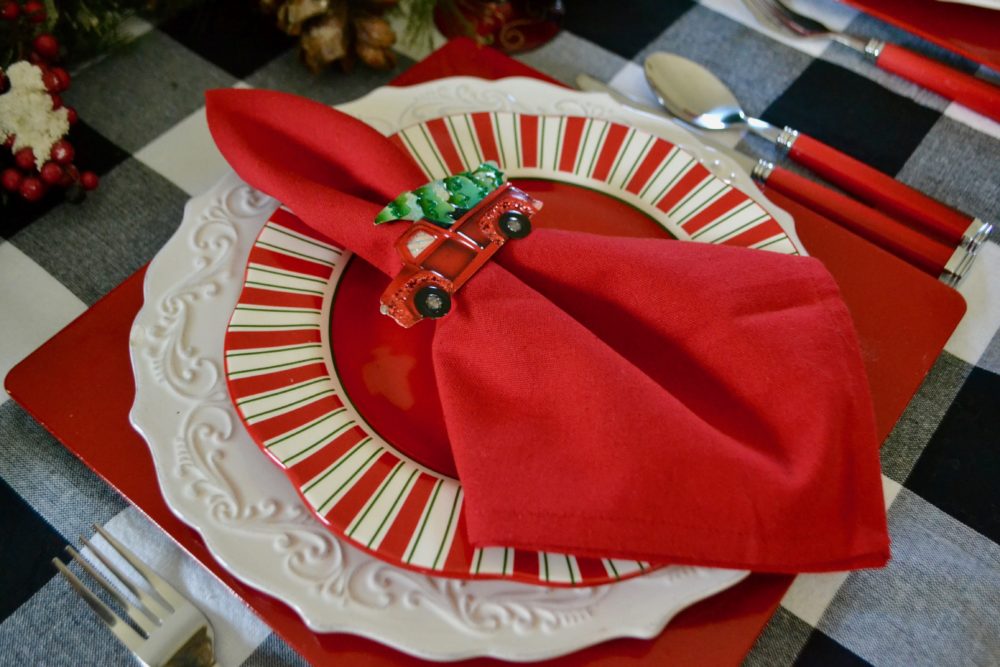 [tasty-recipe id="14747″]
Other ideas you might like to try: