Santa will love these cookies and so will everyone who eats em. Peppermint flavored soft chocolate sugar cookies are dipped in white chocolate and dark chocolate then sprinkled with crushed candy canes.   Simple cookie recipe to make and easy to dip in Ghirardelli  melting wafers.  White chocolate and dark chocolate dipped cookies will make your Christmas tray shine.
Whether you are serving these cookies as gifts or cookie exchange you will want to make these.  The dough is soft made with salted butter, granulated sugar, egg and peppermint extract, Baker's unsweet chocolate, cocoa, and dry ingredients.  They taste like the thin mints especially the dipped in dark chocolate.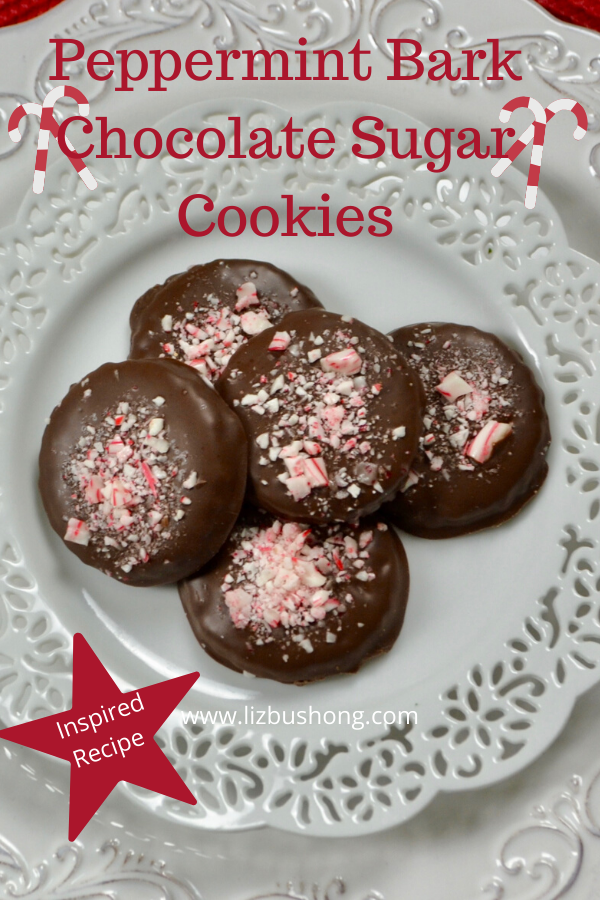 Noteworthy tip about Chocolate
A note about cocoa or unsweet chocolate.  I used a mixture of both dry cocoa and melted unsweet chocolate which makes the flavor of the cookie very rich and soft.  If you want a firmer cookie use dry cocoa only, about 3/4 cup.
Plan 2 + hours to make these cookies.  Chill time is important making the dough easier to roll out.  Instead of using flour to roll out the dough, use dark cocoa. The temptation is to use more flour to firm up the dough but don't do it for your cookies will be dry.  Chilling the dough and cut out cookies to make perfect cookies.
After the big chill, roll the dough 1/4″ thick with a 1-1/2″ round cookie cutter. For best results chill the cut out cookies 15 -30 minutes before baking.  Chilling will keep the dough from spreading during baking.
How to Dip the Sugar Cookies
I baked my cookies ahead and froze them until I was ready to dip. That worked out well for cookie crumbs were stuck to the sides of the cookies and not in the melted coating.
Here is my technique for dipping cookies
Spoon one teaspoon of melted coating in the bottom of custard cup. Place the cookie right side up in the custard cup and add another teaspoon of coating to cover the top of the cookie. Swirl the custard cup a bit to get even coverage. With a fork gently lift the cookie out of the custard cup.  Place coated cookie on parchment paper and sprinkle with crushed candy canes.  Allow the cookies to dry completely before removing from parchment.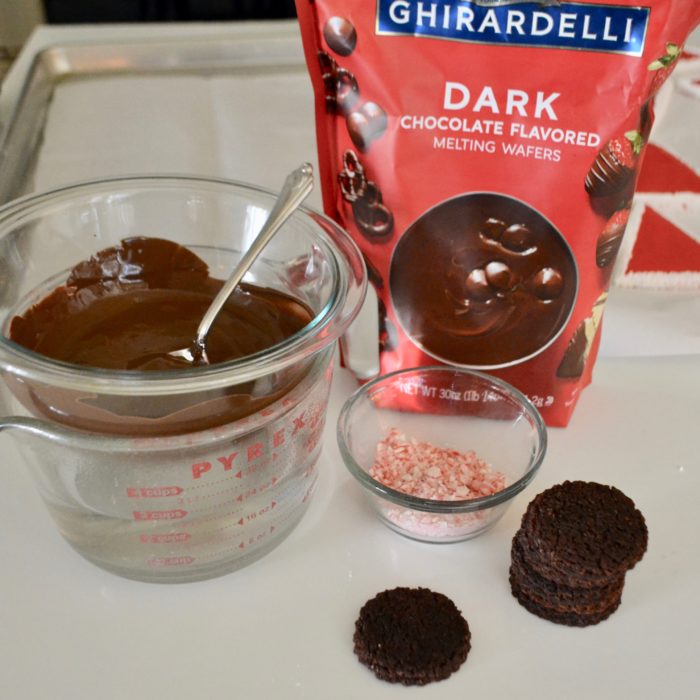 Place cookie upright in custard cup, spoon coating over cookie to coat.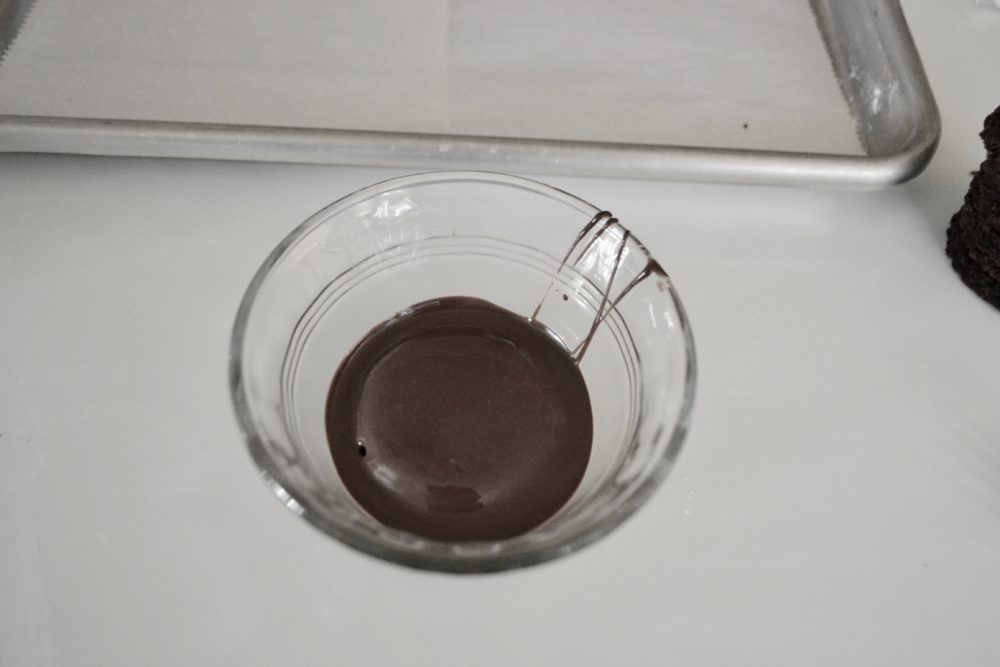 With fork, gently pick up cookie, tap to remove excess coating. Place on parchment paper to set.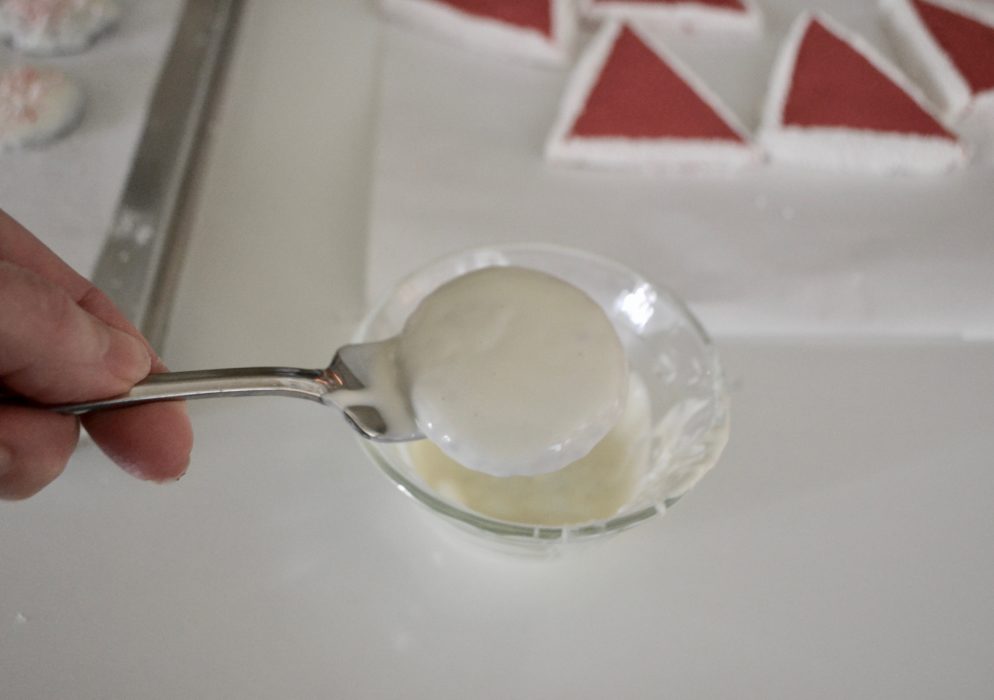 Let's talk about white chocolate
Use Ghirardelli white chocolate melting wafers instead of white chocolate chips. I agree with Sally's baking addiction, that "dipping cookies in white chocolate chips is impossible." Processed stabilizers are the culprits that prevent the chips from melting. Sam's has the best price for a large 30 ounce bag of Ghirardelli wafers. 
Make a batch today, go here for recipe: 
Other Ideas you might like to try: click on photos for recipes.  Merry Christmas and Happy Baking!